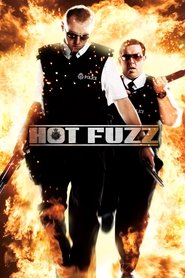 0.00/5 0 Votes
Title:
Hot Fuzz (2007)
Tagline: Big cops. Small town. Moderate violence.
Genre: Crime, Action, Comedy
Director: Edgar Wright
Cast: Simon Pegg, Nick Frost, Jim Broadbent, Paddy Considine, Rafe Spall, Kevin Eldon, Olivia Colman, Bill Bailey, Karl Johnson, Timothy Dalton, Edward Woodward, Billie Whitelaw, Eric Mason, Stuart Wilson, Paul Freeman, Rory McCann, Kenneth Cranham, Maria Charles, Peter Wight, Julia Deakin, Trevor Nichols, Elizabeth Elvin, Patricia Franklin, Lorraine Hilton, Tim Barlow, Anne Reid, Ben McKay, Adam Buxton, David Threlfall, Lucy Punch, David Bradley, Ron Cook, Stephen Merchant, Alice Lowe, Martin Freeman, Steve Coogan, Bill Nighy, Peter Jackson, Cate Blanchett, Garth Jennings, Edgar Wright, Robert Popper, Joe Cornish, Chris Waitt, Colin Michael Carmichael
Release: 2007-02-14
Runtime: 121
Plot:
As a former London constable, Nicholas Angel finds it difficult to adapt to his new assignment in the sleepy British village of Sandford. Not only does he miss the excitement of the big city, but he also has a well-meaning oaf for a partner. However, when a series of grisly accidents rocks Sandford, Angel smells something rotten in the idyllic village.